Wintu leadership (thus far) shows responsible custodianship of casino yield through range of positive uses.

Hosted free by tripod.com
also see
rredco
PATRONIZE OUR LOCAL MERCHANTS - BUSINESSMEN - ECONOMY

2007 Tribal Council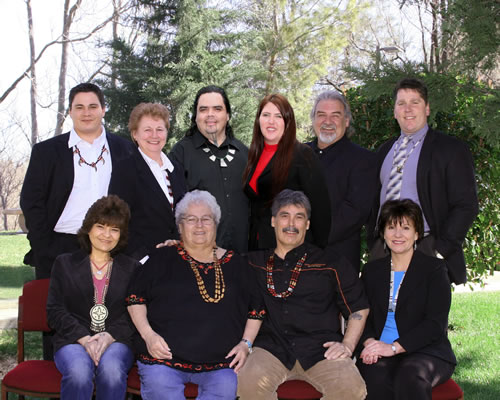 BACK: Jason Hayward, Patty Spaulding, Jack Pottter, Jr., Michelle Hayward, Leon Benner, Mike Hayward
SEATED, FRONT: Hope Wilkes, Barbara Murphy, James Hayward, Sr.,JoAnna Turmel

now incorporated as Redding Rancheria Economic Development Corp

Rancheria proud of programs
Tribe has been able to provide clothes, scholarships, pensions to its members


by Kimberly Bolander, Record Searchlight
5.26.05

Diversifying the tribe's economic base, developing a tribal court and preserving sacred sites are on the Redding Rancheria's 10-year to-do list, its executives said during Wednesday's State of the Tribe address.

But the tribe hasn't yet decided what to do with 150 acres of prime real estate along Interstate 5 just south of Redding, Rancheria Tribal Chairwoman Barbara Murphy said after the luncheon.

"Everybody has speculated. Everybody thinks they know," she said with a smile, sitting in the rancheria's plush Win-River Casino Event Center.

Although car dealerships have expressed interest in locating there, "at this point, we don't have any concrete plans," Murphy said.

"We've been approached, but we have not considered it," she said of the idea.

As Rancheria CEO Tracy Edwards told the audience of about 350 on Wednesday, the rancheria will get to various projects at its own speed.

"Many of you may have heard of 'Indian time,'" Edwards said, drawing knowing laughs from her listeners. "Basically, it will happen when it happens."

She explained that the 230-member rancheria is made up of Pit River, Yana and Wintu tribes and is governed by a 10-member elected council. The rancheria employs 665 people, including 132 in tribal government, 443 in Win-River Casino and 72 at its Hilton Garden Inn and minimart. In 2004, the casino generated more than $13.7 million for payroll and benefits.

Edwards highlighted many of the tribe's milestones during 2003 and 2004, including:


Opening the 91-room Hilton in 2003, adding 56 north state jobs and more than $1 million in salaries and benefits.


Creating the Local Community Benefit Committee in 2004, which granted more than $371,000 to local organizations last year and expects to distribute more than $466,000 in 2005.


Undertaking the Clear Creek Restoration Project to restore the creek's boundaries on the rancheria border.


Completing a 6,000-square- foot addition to its Community Services Building, housing senior nutrition lunches, diabetes prevention classes, karate, group counseling and a gym.


Adding the I-5 property to the tribe's now 236-acre land base, up from 36 acres in 1998.


Increasing contributions to the Redding Rancheria Sharing Fund, fed by casino profits, from $24,000 to $100,000. The fund provides a variety of aid to Indians, such as emergency food.


"In our culture, if someone is in need and you have the ability to help, that's what you do," Edwards said.

Other rancheria programs include a pension plan serving 31 tribal elders, a youth clothing program that provides school clothes to 205 tribal children, and the Home Equity Program, which has been used by 99 percent of tribal members over age 25.

A scholarship program, which served 40 people, has been one of the rancheria's most successful, especially among adults returning to school, Edwards said. And in the past two years, 10 members earned college degrees.

But there are challenges.

Diabetes, already prevalent among American Indians, rose among those living in the tribe's service area, from 4.36 percent in 1999 to 6.08 percent in 2004, Edwards said.

Nonetheless, the rancheria was selected among tribes nationwide to be featured in the "Proud Nations" publication for the strides its diabetes program has made, she said.

Outside the rancheria entrance, several disenrolled members expressed their version of the state of the tribe with signs that read "cultural genocide" and "greed destroys families."

The Foreman family was removed from the tribe in 2003 and early 2004. Members learned Tuesday that the U.S. Supreme Court declined to hear an appeal against the rancheria for the disenrollments, family member Carla Maslin said. Multiple courts have upheld the tribe's sole jurisdiction of the case.

"Some (family members) last night were feeling kind of down and disappointed about the court's ruling, but the majority of the family felt we needed to give a peaceful demonstration today to let people know, 'We're still here. We're not going away,'" she said.

Edwards said the family has a right to demonstrate, but that the removal was fair and required by tribal membership rules. [For RREDCO try www.rredco.com.]


Reporter Kimberly Bolander can be reached at 225-8339 or at kbolander@redding.com.





What about the next generation? Will they embody the same level of commitment, ideals, and decency as their forebears? Will the
same values of responsibility, honesty, and spirituality be important to the heirs, as they were to their parents and grandparents?
---
A Tribe Called Red
Aaron Paquette Art
(and insights)
The world around us is filled with everything we need
if we are quiet and know how to listen, we will hear
the heartbeat - the rhythm - the whispered song.
Wakan Tanka
The Great Unseen
___
___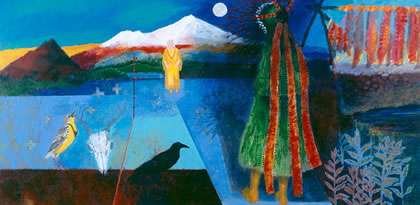 Redding's thoroughly multicultural beginnings
site created by
Bob Shepherd