A Tribe Called Red
Wisdom of the Elders
Honoring Sacred Native Visions of Nature
David Suzuki ~ Peter Knudtson
Hosted free by tripod.com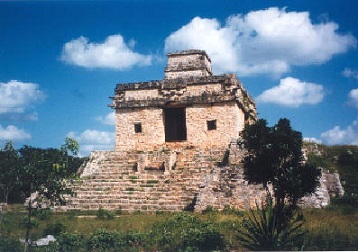 Pre-Columbian American Civilization

Wisdom of the Elders
Honoring 'Sacred' Native Visions of Nature

The Value of Native Ecologies

(David Suzuki)
These are the words with which they remembered the Maker, Modeler, Heart of Sky, Heart of Earth. It was said that these were enough to keep them mindful of what was in shadow and what was dawning. All they did was ask; they had reverent words. They were reverent, they were givers of praise, givers of respect, lifting their faces to the sky when they made requests for their daughters and sons:

Wait!
thou Maker, thou Modeler,
look at us, listen to us,
don't let us fall, donn't leave us aside,
thou god of the sky, on the earth,
Heart of sky, heart of earth
give us our sign, our word,
as long as there is day, as long as there is light.
When it comes to the sowing, the dawning,
will it be a greening road, a greening path?
Give us a steady light, a level place,
a good light, a good place,
a good life and beginning.
Give us all this, thou Hurricane
Newborn Thunderbolt, Sudden Thunderbolt,
Newborn Nanahuac, Sudden Nanahuac,
Falcon, Hunahpu (Junajpu),
Sovereign Plumed Serpent,
Bearer, Begetter,
Xpiyacoc, Xmucane,
Grandmother of Day, Grandmother of Light,
when it comes to the sowing, the dawning.
Above Liturgy is From

Popol Vuh: The Mayan Book of the Dawn of Life
Sacred Book of the Maya (Mesoamerica)

Aaron Paquette Art
(and insights)

The world around us is filled with everything we need
if we are quiet and know how to listen, we will hear
the heartbeat - the rhythm - the whispered song.
Wakan Tanka
The Great Unseen
---
DIRECTORY

ballad.html
berkey.html
biblio.html
billison.html
cott-notes.html
cottonwood.html
dana.html
dimont.html
drimmer.html
earth-day.html
ed-pete.html
gaming.html
gb1.html
geobook.html
hoffer.html
jed-cal.html
jedediah.html
kate-luckie.html
library.html
light-shine.html
manitou.html
native-words.html
never-give-up.html
new-guestbook.html
nighthorse.html
odd-links.html
oldwest.html
one-sky-above.html
pbr-espanol.html
persecuted.html
quinceanera.html
rancheria.html
sacriver.html
seattle.html
spanish.html
thankfulness.html
town-destroyer.html
vaqueros.html
vigilance.html
wintun.html
Whales and Dolphins are PEOPLE TOO

"Surely all God's people, however serious or savage, great or small, like to play. Whales and elephants, dancing, humming gnats, and invisibly small mischievous microbes - all are warm with divine radium and must have lots of fun in them. "

from John Muir (1913) thanks to the Sierra Club.